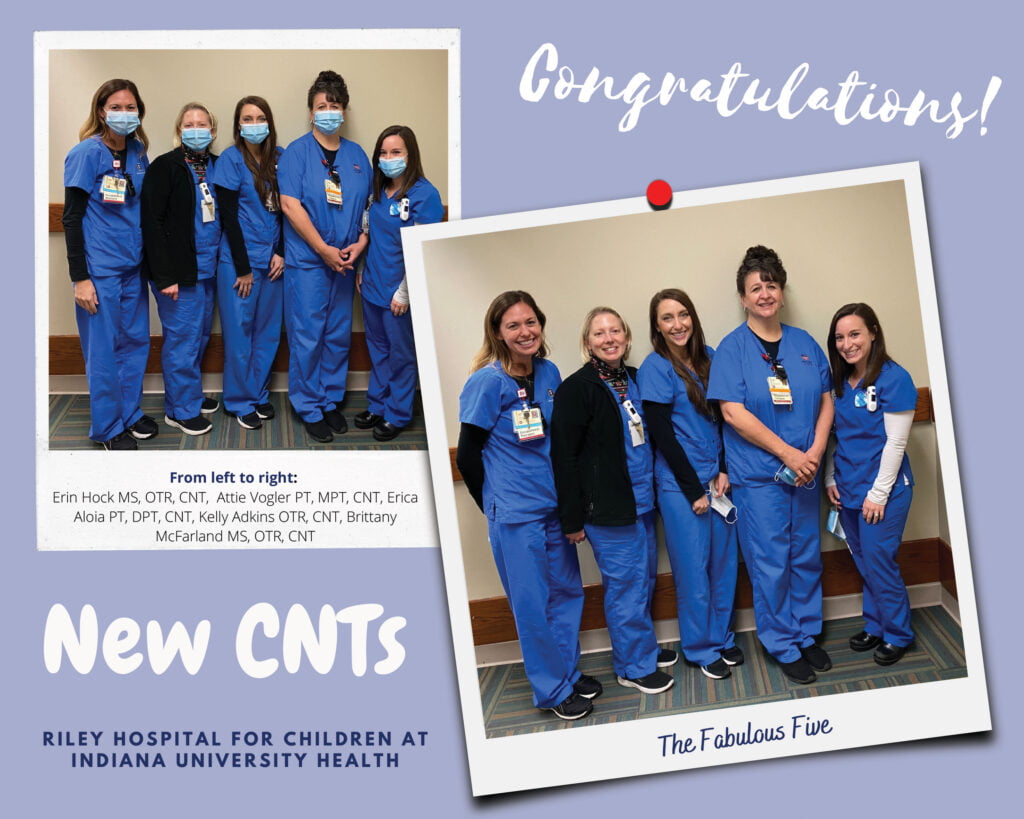 We are happy to introduce a team of 5 incredible neonatal therapists in Indianapolis, Indiana, who demonstrated unwavering dedication while simultaneously juggling the opening of their newest facility and achieving neonatal therapy certification. Their certification shines as a symbol of their commitment and passion for what they do. Attie Vogler, PT, MPT, Brittany McFarland, OTR/L, Erica Aloia, DPT, Erin Hock, OTR/L, and Kelly Adkins, OTR/L are the "Fabulous Five" and newest CNTs at the Riley Hospital for Children at Indiana University Health.
The team shared that the path toward pursuing certification did not come without barriers. They faced challenges of lack of time, transitioning to a new space, and funding. 
For this group of dedicated therapists, time was the biggest barrier. High patient census impacted the amount of time they could devote to studying and discussing the articles provided in preparation for the certification exam. Yet, despite this obstacle, they leaned into the group's energy and strength for support and knowledge. As a team, they envisioned implementing the knowledge and insight gained to provide safe and effective therapy interventions to fragile high-risk infants and their families.
Riley Hospital for Children at Indiana University Health has a Level 4 NICU with 60 beds, as well as a cardiovascular intensive care unit. In November 2021, a new Level 3 Maternity Tower providing 40 beds, opened for families, extending skilled therapeutic services to an even greater number of families and newborns in that area. These vibrant units are served by 4 occupational therapists, 4 physical therapists, and 5 speech-language pathologists. Like many hospitals across the country, some of these therapists split time between NICU and other floors, however they report spending the majority of their time in the NICU. 
The story behind how the "Fabulous Five" came to pursue Certified Neonatal Therapy (CNT) credentialing is familiar, nonetheless just as inspiring. It started when some of their pioneering speech-language pathologists became certified in 2020. Cara Drake-Luecking, CCC-SLP, CLC, CNT, Jessica Rak, CCC-SLP, CNT, and Kerrie Corea, CCC-SLP, CLC, CNT were the pioneers who not only paved the way for the neonatal therapists at Riley Hospital for Children but also contributed to the group's certification exam preparation by sharing their knowledge and resources. Soon, the benefits of CNT status were clear to fellow therapists, as well as to the leadership. The perfect timing came for these additional 5 therapists to get certified with the opening of the Maternity Tower.
"…we thought it was a great asset to our team with the new Maternity Tower opening. So, we pursued this as a team!" 
During this time of transition, Riley Hospital for Children's leadership recognized the value of having their staff demonstrate the best knowledge in practice and research through the neonatal therapy certification and found a way to secure a grant to help cover the cost of certification. The Riley Children's Foundation established a fund to support the perinatal center as part of the opening of the Maternity Tower and dedicated a percentage of the fund to help support the therapists in pursuing certification. In doing so, they ensured a level of excellence within the therapy team serving high-risk infants and families in the new Maternity Tower. 
"We all work very closely together and lean on each other for advice and support, and I now feel that our disciplines have a better understanding of each other with the new knowledge we have all gained!" 
The team demonstrated to leadership that it was a good investment to become certified. Having a team whose expertise in their practice was validated and advanced through the rigorous certification process elevated overall inter-professional neonatal therapy practice standards. In addition, materials provided to assist applicants with certification exam preparation served as a great one-stop learning resource to advance the knowledge essential for the effective delivery of neonatal therapy. This team shared excitement about the certification process and believed the knowledge gained through this process will enhance care delivery to the patients they serve. 
"The benefits of pursuing the certification include the education and information we learned, but also the certification itself helped further our mission to provide high-quality patient care here at Riley that aligns with our values of Purpose, Excellence, Compassion, and Team."
When asked about what becoming certified has done for the team, Brittany McFarland shared how it has personally changed her practice: 
"I feel empowered to provide high-quality care and have gained valuable knowledge that has furthered my ability to serve my patients, especially as an occupational therapist with new knowledge of feeding/swallowing, sensory systems, and intervention strategies." 
The "Fabulous Five" chose to turn the challenges they encountered becoming CNTs into opportunities to grow individually in their expertise and personal knowledge as well as to strengthen their bond as a team through demonstrating competency in providing services for high-risk infants and their families by achieving certification.