"A premature baby may look tiny and fragile to touch, but don't underestimate the courage, strength, and determination of a baby born too soon." This quote, written by an unknown author, could be about Amanda Broadhurst who is originally from Newark, Delaware. Years after Amanda required NICU care as an infant, she returned to the NICU as an occupational therapist and recently obtained the Certified Neonatal Therapist (CNT) credential. Below is the story of Amanda's journey to become a CNT.
Amanda is a former preemie born 32-33 weeks gestation, and her hospital course was complicated by aspiration pneumonia. Despite her parents being told that she did not have a good prognosis, Amanda persevered and thrived. She was discharged home after several weeks. Her mother continues to verbalize the emotions ofhaving a baby in the NICU today, which makes her empathize with parents that start in their role as parent within the NICU setting.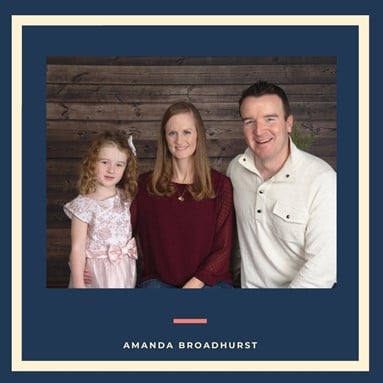 Fast forward to 2000, Amanda became an occupational therapist. Initially she worked in hospital acute care, adult rehabilitation, and adult outpatient brain injury, which diversified her expertise as a clinician. She then transitioned to pediatrics in 2001, working in early intervention and outpatient. In 2002, she began practicing as a neonatal therapist in a private, non-profit hospital. Her initial practice as a neonatal therapist was in the very NICU that was founded by her own NICU doctor in 1977. There, she built expertise in the pediatric department, in the NICU, and in early intervention,
which also included completing early intervention eligibility assessments for the State of Delaware. She split her time between NICU and other areas, spending an average of 12 to 20 hours in the NICU each week for the past 18 years. When asked, "Why was becoming a neonatal therapist important for you?" Amanda answered, "working in the NICU is my favorite part of my job… I love being able to make such an impact on these vulnerable little premature babies, as well as their families."
Amanda has now moved to Arlington, Virginia. Her zip code may have changed, but her passion for neonatal therapy has not. She has not yet begun practicing occupational therapy in Virginia, however continues to travel back to Delaware to work per diem. She hopes to find a NICU position in her current city once the pandemic is over and she can return to work.
Becoming a skilled OT in the NICU is not where Amanda's learning journey ended.  She aspired to elevate her level of practice by pursuing her credentialing as a CNT. Becoming a CNT was a natural next step, as she has always been inspired by the learning process and is driven by a desire to provide better care for fragile infants in the NICU and their families through the most relevant and evidence-based methods and research. Amanda recognizes the value of certification. Becoming a CNT validated her skills and knowledge in the eyes of the occupational therapy profession, her NICU colleagues, and most importantly her clients and their families. It also improved her ability to serve the infants and families in the NICU within her community. Her favorite part of being a CNT is having opportunities to make an impact on vulnerable premature babies, as well as their families.
We are thrilled to have Amanda as part of the CNT community and extend appreciation to all therapists who have committed to making a difference in the lives of high-risk babies and families.